This week, we are talking about Books That Would Make Good Games.
One thing you may not know about me is that I'm a gamer. Sure, I spectate more than I actually play but I've always had a controller in my hand since the classic Nintendo Famicom. I had three PSX consoles, 2 PS One, 2 PS2, a PS3, 3 PSPs, a PS Vita, and a PS4 Pro. My brother and I are actually planning to buy another PS Vita because the one we have now is rooted in the Japanese PlayStation store. And if it's not yet obvious, we're Playstation fans. I've never even held a GameBoy or a Nintendo DS in my life. No joke. XD
My favorite genres are Japanese RPG, survival horror, and fighting games. Tekken 3 is like the national video game in the Philippines. Final Fantasy VIII was my top favorite JRPG until recently. And while kids spend the day with their dads in parks, malls, or fixing cars… I was helping him beat Silent Hill. Today, I still love Tekken and have grown to love Street Fighter. Legend of Heroes: Trails of Cold Steel has dethroned FF8 as my favorite JRPG so much that I am seriously contemplating on buying a Windows system so I can play the game's re-release with 5000 extra voice over clips. And I think Resident Evil: Biohazard is one of the scariest video games ever! I can talk you to the ground about video games like I can with books and anime.
Anyway, I figure this is going to be a long post. I will not only name 5 (or more) books that would make great video games but I will try to mention games that can be good books too. And I will be categorizing them into genres/modes instead of the book's genres. This is going to be fun!
SURVIVAL HORROR
Resident Evil books do exist and I have reviewed them on this blog. I think they translate very well in novel form, moreso than those awful movies.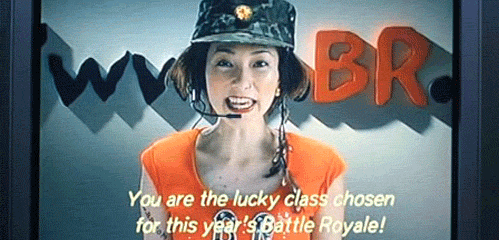 A book that would be the perfect survival horror game is Battle Royale by Koushun Takami. It is literally a book about survival and it is horrific. You're stuck in an island and the only way of getting out is to be the last one standing. You can make your own character, make alliances, fashion your own weapon or pick them up along the way, strategize, and ultimately survive.
---
VISUAL NOVELS
Visual novels are basically books in video game format. My brother loves these games. My personal favorite is Steins;Gate. And I think this has both a manga and light novel adaptation on top of the awesome anime.
I can see The Night Circus by Erin Morgenstern as an awesome visual novel. Emphasis on the visual aspect. Visual novels aren't just read and click. You make choices and those choices lead you to different endings. Some even have 7 different endings. But really, I'm just excited over the possible visuals of this book translated into game.
---
RACING
Wolf by Wolf by Ryan Graudin. Yes, it's already about a motorcycle race. Why not make it into a game, maybe a mobile game, then add a bit of adventure at the pit stops. You can either play as Yael or make your own character. In the end, add more adventure and kill Hitler in the end. I picture kind of like how the Da Vinci Code game is faithful to the source material apart from some of the religious sects. This can be like that but it's not Hitler you're killing or whatever.
Then throw in a side quest where you can play as different characters from the book. And maybe a relay!
---
FIGHTING GAMES
Are you ready for this? The Hunger Games by Suzanne Collins. Yes, I can see this as a fighting game. You already have a training area, several different backgrounds; you have pairs for tag teaming, different teams to advance through the pools and brackets, plus you can buy/be gifted weapons. I can see a mix of Tekken Tag and Marvel vs Capcom in this.
---
ROLE-PLAYING GAMES
There are so many types of RPGs. Single player, third person shooter, massively multiplayer online, etc. How about I give you a sample of each type:
Legend by Marie Lu can make a great 3rd person shooter. Play as either Day or June following different storylines and then switch after finishing one route. Think Resident Evil 1 & 2 where you can play either/both characters.
The Final Empire by Brandon Sanderson is material for MMORPG. The magic system and the size of the cast lends itself perfectly for it. I can actually see it also as a single player RPG reminiscent of the older Lord of the Rings: The Third Age game.
A Study in Charlotte by Brittany Cavallaro if made into a video game gives me the Nancy Drew by HER Interactive vibes. They are my guilty pleasure games. They're not the best but they are so addictive. It's kind of similar to a visual novel but these games are more RPG because you play as Nancy.
I always thought that Miss Peregrine's Home for Peculiar Children by Ransom Riggs would make an awesome skin for The Sims but I don't know how to translate the story itself to gameplay.
I mentioned Legend of Heroes: Trails of Cold Steel earlier. I would love for that to have a light novel series. All those characters, all those places… it could very well be a multi-volume series!
How about you… what's your favorite video game? 🙂